Ok, ok....so I have been meaning to do my weekly blog for some time now. However, I am a woman possessed. Ever since I was a wee little thing, I can remember planting myself in front of the TV and watching every minute of the Olympics that I possibly can. The theme song gives me goose bumps every time. My favorite sport to watch as a kid: GYMNASTICS. Mary Lou Retton was the Alpha. She was simply amazing. Not to mention Jackie Joyner-Kersee and Flo Jo with her fierce nails.
Many years later, I begged my mom to let me be a gymnast like the Dominiques (Da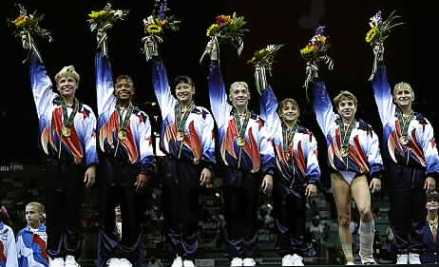 wes and Moceanu). But she said...no go...you are going to be too tall and there are no gymnastic gyms in rural South Dakota. So I had to put my dream off another 4 years. By that time, my mom was right, even though we moved to Denver where there were plenty of gyms, I was too tall. Besides, I had another thing on my mind. HOOPS. By the time the next Olympics rolled around, Teresa Edwards was the main poster on my wall. I was usually too busy playing my own ball to actually watch as much as I wanted, but I definitely was able to squeeze in a few games. As well as keep dreaming about the perfect beam routine :) I can actually remember sitting in my camp dorm room in '96 at a bball camp in Pennsylvania and watching Kerri Strug complete her vault despite a fractured ankle. Ironically, the next day at camp I sprained my ankle. Her performance must have left a lasting impression on me because despite a fatty cankle, I taped up and hobbled up and down the court.
The next 2 Olympics were watched as much as possible but again, too much sport for me to actually pay close attention. So that brings me to 2008. I have been watching so much Olympics that when I finally was able to pull myself away from the TV to eat, I was craving Chinese food. Thanks to Jessica for running out to House of Hong for some yummy Kung Pao Chicken :)
So, which sports have kept me sleepless??? Well, it of course started out with the opening ceremonies. You have to start it out right. Just hearing the music and watching the presentation brought me to tears. The tears continued for a different reason as the camara kept glancing at George W, probably wishing he had a hot dog and some nachos. Despite that, the ceremony was amazing. First up, fencing. I think I would definitely take that sport up. You get to wear a sweet Tin Man suit that lights up while tagging your opponent with a sabre (I think that is what the sword is called). And to top it off, you get to yell and taunt after you hit them. One match to 15...nice, quick and
sweet.
After fencing, I watched a little air rifle before I set the Tivo and went to sleep. The next morning brought 8 hours of recorded bliss. A little women's soccer and some women's hoops (Go Sue!!!) for breakfast. That was a quick meal as they worked the Czechs. Some women's volleyball, Logan Tom is an animal. A little bit of women's beach volleyball. Not my favorite team of Misty and Karri, yet still dominating. And of course, men's hoops. I am really hoping the guys live up to their name, The Redeem Team.
As you can see, I could go on and on about my two week sport-a-thon but I am thinking I should go ahead and wrap it up. If you need me, I will either be at work or in front of the TV watching the Americans' work. I am still trying to figure out a way to get a TV into my office at work so I can watch Phelps continue his Olympic run for 8 gold medals!!!! So, that is all for now....gotta direct my attention to Beijing.
ONE WORLD, ONE DREAM.